where to see
Permanent and long-term exhibits of Brian's work
Beverly Taylor Sorenson Arts and Education Complex
University of Utah, SLC, UT
This U of U building (1721 Campus Center Dr) is home to Tanner Dance and the College of Education. Both departments have commissioned works by Brian which are on display in public areas of the building. Visitors are welcome to view the works free of charge during university business hours. 801-581-8221
Museum of Art
Brigham Young University, Provo, UT
Brian's popular depiction of Nativity is a part of the museum's permanent collection. This monumental piece packed with life-size figures is on display year round and can be seen free of charge during regular museum hours (M, Th, F 10a-9p, T, W, Sa 10a-6p). 801-422-8287
LDS Conference Center
Salt Lake City, UT
She Will Find What Is Lost is part of the LDS Church's collection of religious works on display in their Conference Center on Temple Square (60 West North Temple). While many are familiar with digital reproductions of this piece, the lively texture of oil paint and the large scale of the original is often surprising to visitors, offering another rich layer of experience with this image. The public can view works daily between the hours of 9a-9p, but because the Conference Center occasionally closes to the public for events, it's recommended that groups schedule a tour. 801-240-4931
Springville Museum of Art
Springville, UT
Springville's jewel of a museum (126 E 400 S) is home to several exhibits every year, and Brian's work often participates in their Annual Spring Salon. Their permanent collection features a classic Kershisnik painting, Flight practice with instruction, and visitors can see the piece free of charge during regular museum hours (T, Th, F, Sa 10a-5p, W 10a-9p). 801-489-2727
Covey Center for the Arts
Provo, UT
Brian's Wrestling the angel (108 x 132 inches) is on loan to the Covey Center (425 W Center St), and can be viewed during regular business hours (Monday - Friday 10a-6p).
New Yorker Restaurant
Salt Lake City, UT
This larger-than-life building wrap is an easy (if quick) visit. Driving on West Temple, just north of 400 S, this image can be seen on the western wall of The New Yorker restaurant. It's an adaptation of Brian's 1996 painting, Dog and dancing servant.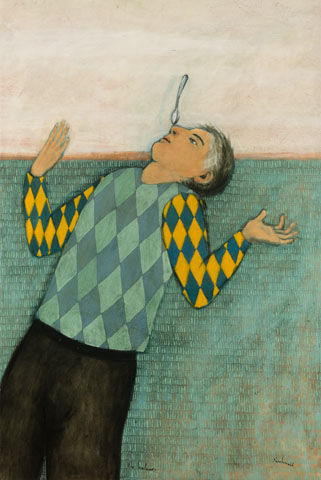 Pizzeria Seven Twelve
Orem, UT
A large collection of Brian's works surround patrons of one of Utah Valley's finest eating establishments. While there are no permanent pieces to this collection (all works are for sale), the restaurant walls are alive with current work that is rehung every four to six weeks. Have lunch (M - F 11:30a-2:30p) or dinner (M - Sa 5-10p) at the Pizzeria (320 State St #185) and immerse yourself in Brian's world for a spell. 801-623-6712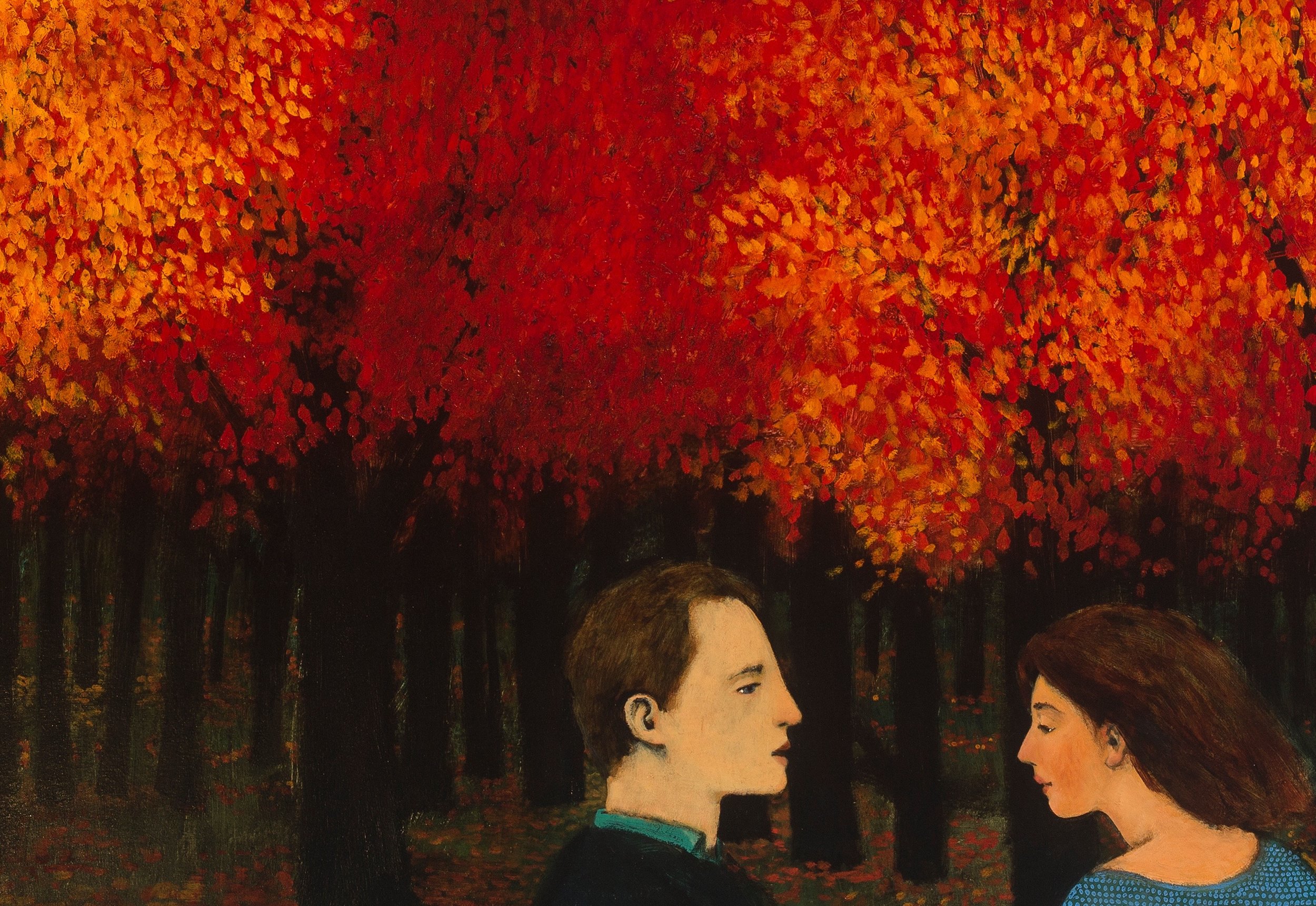 Communal Restaurant
Provo, UT
Communal (102 N University Ave) is another of Utah Valley's best restaurants, and its art collection mirrors its food philosophy. It features a collection of works by various community artists gathered in for a communal sharing with patrons. Their event room features a revolving body of Brian's work that changes as pieces sell. Have lunch (T - F 11:30a-2p), dinner (M - Sa 5-10p), or Brian's personal favorite, Saturday brunch (9a-2p) to get a little taste of the larger Provo art community. 801-373-8000